EMF, or electromagnetic fields, surround us all the time. From our household appliances to cell phones, WiFi and computers, we literally live with them daily. When we step outside, we are again exposed to EMFs via things like the sun and power lines. You may have heard the distant rumbles about possible dangers of EMF exposure. So, let's explore this topic a bit more to include an EMF levels chart.
What is EMF Exposure?
EMF exposure means you're coming in contact with radiation. This could be high-level radiation, also known as ionizing radiation, or low-level radiation, known as non-ionizing radiation. You can limit your exposure to either by distancing yourself from the source.
To get a better idea of ionizing and non-ionizing radiation sources, we've listed a few examples below.
Ionizing
Ultraviolet light
X-rays
Radon
Certain building materials
Non-Ionizing
Power lines
Microwaves
Cell phones
Computers
To determine the strength of EMFs, you have to look at the measurement for each. They are measured in volts per meter (V/m). The strongest EMFs will have higher V/m readings.
Is EMF Exposure Harmful?
Like most scientific subjects these days, opinions vary on whether EMF exposure is harmful or not. Nobody disputes the fact that when your body encounters these waves, changes occur. It's a matter of whether those changes are harmful.
According to the WHO website on the subject, "…the WHO concluded that current evidence does not confirm the existence of any health consequences from exposure to low level electromagnetic fields. However, some gaps in knowledge about biological effects exist and need further research." And while there is no research-based link between illnesses, such as cancer, and high-level radiation either, studies do continue. There is enough cause for concern for ongoing research efforts.
EMF Level Charts
To gain a better understanding of the amount of volts per meter from common EMF sources, we've inserted the chart below from Anomalies Research Society.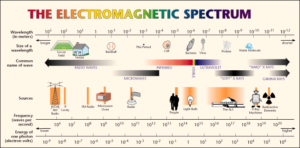 The left side of the chart shows lower radiation levels and the right side shows higher levels. Radio waves, microwaves and infrared rays emit non-ionizing radiation while gamma rays, x-rays and ultraviolet rays all emit non-ionizing radiation. Sources with lower volts per meter would be an FM radio or a microwave oven. On the other hand, x-ray machines or radioactive elements would emit ionizing radiation.
As an additional source, the United States Environmental Protection Agency issued the following EMF levels chart: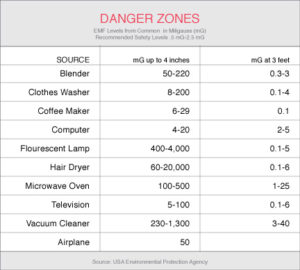 EMF Radiation Detectors
If you're interested in purchasing your own EMF monitor, also known as a gaussmeter, you can do that, as well. Their complete accuracy is questionable, but it could give you a good idea of the readings.
Here are a few you can find on Amazon:
Make sure to keep in mind where you intend to use the tool since some are intended to only be used indoors.
Conclusion
Finally, an EMF levels chart can give you a good idea of potentially dangerous sources of radiation. While the research isn't super clear, you can at least have an idea of where the most danger could lie.