A meal planning calendar has always proven handy to help plan weekly, and even monthly, meals. While it does require a fair amount of work upfront, that doesn't outweigh the money you save or the simplicity of going to the grocery store by doing so. This is even more so the case when you've decided to follow Whole30. A Whole30 calendar will help you ensure you stay on track and only buy compliant foods at the supermarket.
What is a Whole30 Calendar?
In short, a Whole30 calendar is a guide to peace of mind and a major contributor to staying on plan. But before we delve deep into the nitty gritty, we wanted to share the humorous calendar that Whole30 posts on its site.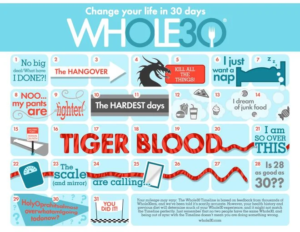 In other words, this is a calendar of emotions you can expect when you're on Whole30. As you can see, it starts off with a bit of shock, anger and tiredness and ends with excitement and perseverance. It's hard sticking to an eating regimen, especially when you begin second guessing the commitment you've made. However, the results will speak for themselves when your body feels better and, of course, you see a smaller number on the scale.
On the other hand, the actual Whole30 meal planning calendar will help ensure you stay on plan for the duration of the 30 days.
Why Do I Need a Calendar?
Whole30 is a pledge you're making to yourself to better your health. To do so, you must stick to the plan for the 30 days. If you cheat even once, you have to start over from day one. You don't want to do that, right?
So, a calendar helps you have a solid plan for all of your meals and snacks for the week (or month) to ensure a smooth transition from "normal eating." Once you have the calendar of meals in place, you can even prepare some meals in advance and put them in the freezer. This saves you a ton of time, too. When we are rushed for time, it often has us reaching for what is convenient versus what is actually on plan.
Remember, you have to be sure your food meets the Whole30 guidelines by ensuring it's free of:
Processed foods
Added sugars
Dairy
Grains and legumes
Carrageenan, MSG and sulfites
See what we mean when we say planning is essential? You don't want to be waiting until the last minute to determine if that pack of bacon is compliant. When you plan in advance, you can have the time to research to find out the foods and brands that are approved for the plan.
How Do I Build my Whole30 Calendar?
In order to not get so overwhelmed, start with just the first week. Make a space to insert your breakfast, lunch, dinner and snacks for the day. Whole30 isn't a huge proponent of snacks, so be sure to eat them sparingly and only when you absolutely need a boost.
Be certain to visit the Whole30 site for meal planning inspiration and tips. They know you'll need help, and they've made it very user friendly for simple navigation.
Summary
Setting your Whole30 calendar takes some time initially, but you'll reap the benefits of your advanced planning. Preparation will set you up for Whole30 success!